Maldives diving terms explained
2017-03-08 12:03:31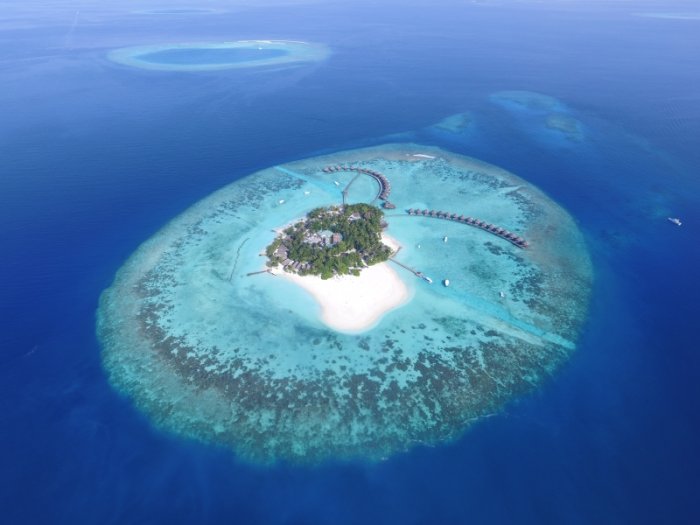 Thulhagiri Island Lagoon
What is an
Atoll
? What is a
Tila
? What is a
Kandu
?
When you are researching scuba diving in Maldives it can become confusing. Local Divehi language is added to the usual dive site terminology and it makes for quite a mix! So, what do these terms mean?
Atoll
An
atoll
, sometimes called a
coral atoll
is a ring-shaped coral reef, island, or chain of islands that encircles a lagoon. In total there are 26 atolls in the Maldives.
The word is thought to derive from 17th century French. At least the word is used in early descriptions of Maldivian Atolls. However, it is likely it actually came from the local Divehi language, which is the Indo-Aryan language of the Maldives; Atolu.
Ari Atoll, North & South Male Atolls and Addu Atoll are probably the most famous atolls in Maldives among the diving community.
Explore dive sites of South Ari-Atoll in detail
Explore dive sites of North Male Atoll in detail
Tila (or Thila)
A
tila
is an underwater island. You might call it a pinnacle in the rest of the diving world. In fact, tila is 'pinnacle' in local Divehi language. It can be so small that you can dive the whole way round it. Or it may be large enough that on one dive, you can only cover a section of it.
Tila's that are located within a Kandu (see definition below) are usually the most challenging because of strong currents. These are also the most rewarding dives because the marine life of Maldives loves current!
Kandu
A
Kandu
is a kind of channel or pass, located around the border of the atoll. These are the places where water rushes in and out of the atoll with tidal changes. The perfect 'Kandu' dives are drift dives where you can see big pelagic fish like tunas, mantas and sharks.
Lagoon
Each island in Maldives has its very own
lagoon
. This is a great shallow water area, with clear water, perfect for beginner divers, orientation dives, or refreshing your scuba skills before heading to more challenging dive sites.
Faru
A
Faru
is a large coral reef that emerges with low tide. The reef top is exposed at low tide but may be completely submerged at high tide.
Dhoni
This is the name of the local boats used by the resorts and dive centres to get you to the dive sites! A wooden boat, with a sun deck up-top, specifically designed tank-racks down the middle and benches in the shade either side of the boat. A simple giant stride entry off the side of a dhoni and you are on top of the dive site!
Top 5 dive sites of Maldives
1.
Kuda Rah Tila
- Really beautiful dive site and one of the most popular in South Ari-Atoll. It is a declared 'Protected Marine Area' by the Maldivian government and is positioned to enjoy incoming currents that means this dive site is rich with marine life and colourful corals. Kuda Rah Tila is actually 4 Tilas (or pinnacles) – you can do it in one dive but you will never get bored of this dive site if you want to dive it time and time again!
2.
Madivaru
- also known locally as Hukrueli Faru. 'Madi' means manta ray in Divehi so you can imagine what you might find here! The site is named after the abundance of manta rays that gather here during the
northeast monsoon season
(December to March).
3.
Paradise Rock
- One of North Male Atoll's best dive sites. Only 25 minute boat ride from Thulhagiri Island, currents can be strong but the soft corals and colours of this reef are outstanding.
4.
Aquarium
- So many fish on this dive site! Hence the name, Aquarium. As is typical of Maldives, there can be current experienced on this dive site but the variety of fish and sheer numbers of fish is second to none!
5.
Kudu Haa
- A dramatic pinnacle, or tila, which is widely considered as one of the highlights of diving in Maldives. Marine life is diverse and plentiful including nudibranches and frogfish. Best dived when current is less so you can navigate the two parts of the pinnacle more easily.