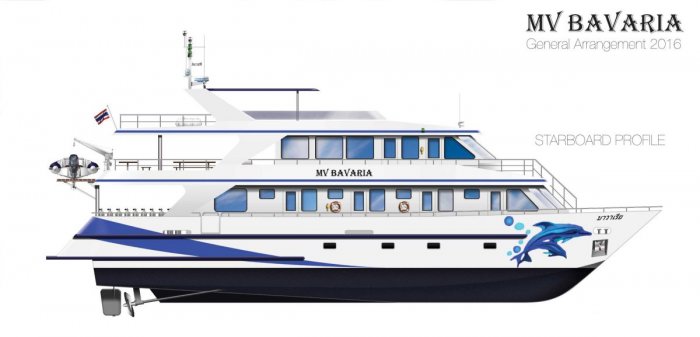 Bavaria
New liveaboard boat since 2016 - Price from 40.900 Thai baht for divers6 day/night trips to Similan, Ko Bon, Ko Tachai and Richelieu Rock7 day 6 night trips to Burma (Mergui Archipelago)
Info
Info
Specifications
Specifications
Photos
Photos
Itinerary
Itinerary
Schedule and Prices
Schedule and Prices

MV Bavaria - 2017/18 Info and Price (Euro)
Burma Diving Specials - Info & Price (Euro)

MV Bavaria is a brand new Similan island liveaboard with steel hull. Built by divers, for divers, it has all the amenities that brings this liveaboard into the highest standard. It was built according to the latest maritime and safety standards in Thailand.

All guests are accommodated in spacious, comfortable cabins with individual air conditioning.

MV Bavaria has 2 Standard Cabins (without toilet and shower), 8 Comfort Cabins (with twin beds and ensuite bathroom) and 2 Deluxe Cabins (with double bed and ensuite bathroom). The maximum guest capacity on board is 24. Friendly staff and delicious Thai/international cuisine makes for a very pleasant stay on board.

On tours for 6 days, you visit the most beautiful and famous dive sites of Thailand. The Similan Islands, Ko Bon, Ko Tachai, Richelieu Rock and the lesser known Surin Islands can be dived as part of this itinerary. It really is a best of Thailand's diving tour!

A 7 day tour to Myanmar (Burma) is also available. Imagine diving the largely untouched Mergui Archipelago for a great value liveaboard trip. Every day there are up to 4 dives planned (including night dives). Diving groups are kept small with only 4-5 divers per dive guide.

A huge sun terrace with loungers is on the top of the boat. On the main deck - next to the cabins - is the dive deck, the galley and additional toilets and showers. The dining area, a small bar and the air conditioned lounge with entertainment system and library are located on the bridge deck.

Trip Offers
6 days / 6 nights, 22 dives
7 days / 6 nights, 22 dives (1 day of arrival to Ranong)

Non Divers are welcome on board and there are opportunities for snorkeling, especially on the Similan Island itinerary.

All liveaboard prices quoted are per person.


Length
28m
Width
6.5m
Vmax
12 knots
Engines
2 x 480 HP
Generators
1 x 60Kw, 1 x 40 Kw
Water
30000 Liter
Navigation
Radar, Sonar, GPS, compass
Communication
Mobile telephone, satellite telephone, CB, VHF
Safety
2 life rafts for 40 pax, 40 life jackets, 4 fire extinguishers
First Response
First aid kit, emergency oxygen
Facilities
TV, DVD, Stereo, Library
Services
The price includes
• Cabin with air conditioning for two guests (price quoted is per person)
• Breakfast, lunch, snacks, dinner
• All non-alcoholic drinks, water, coffee and tea
• Fresh fruit, yogurt and snacks
• Towel, shower gel
• Tanks, weights and weight belts
• Dive Guide
• Transfers Khao Lak - Ranong - Khao Lak (where required for Burma itinerary)
Exras
Prices do not include
• Personal insurance
• Alcoholic beverages and cigarettes
• Equipment rentals (600 Thai Baht per day)
• Computer (250 Thai Baht per day)
• Any diving courses taken on board
• Transfers to and from Phuket
• 15 liter tank (250 Thai Baht per day) = 7 Euro
• Nitrox (200 Thai Baht per day) = 5 Euro
Nitrox packages
10 tanks -20% = 1.600 Thai Baht (43 Euro)
15 tanks -25% = 2.300 Thai Baht (62 Euro)
Nitrox Flatrate (all dives with Nitrox) -30% = 3.000 Thai Baht (81 Euro)

National Park Fees
6 day 6 night trip - 2.200 Thai Baht per diver
7 day 6 night trip - Myanmar trips need additional visa fees (contact us for more up to date information on this)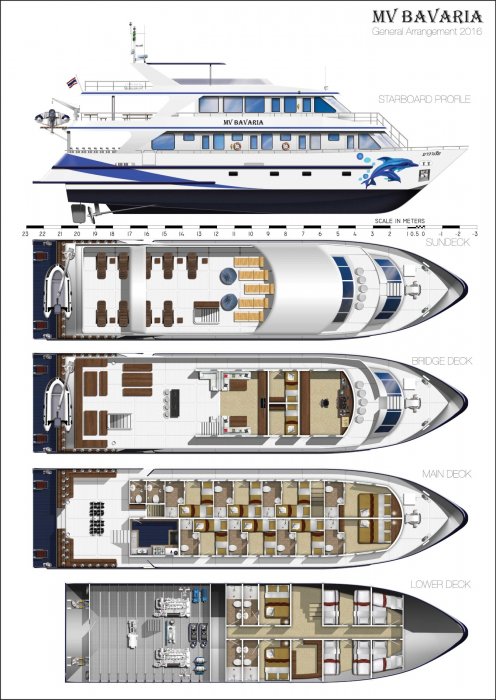 Deck Plans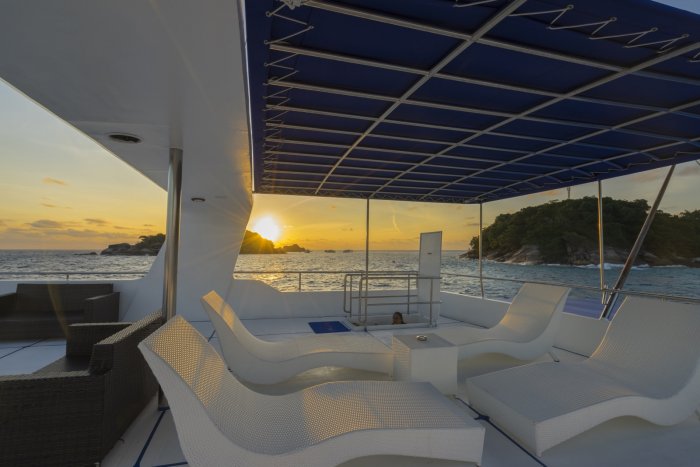 Sun Deck

Main Deck

Lower Deck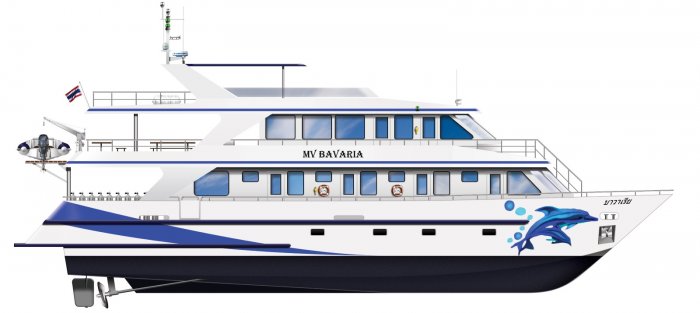 Side Profile
Dep./Arr.
D/N
Boat / Route
Standard
Comfort
Double
18.04.2018
24.04.2018
6D/6N
BURMA - Mergui Archipelago
48,500
52,500
56,500
25.04.2018
01.05.2018
6D/6N
BURMA - Mergui Archipelago
48,500
52,500
56,500
02.05.2018
08.05.2018
6D/6N
Thailand - Similans, Bon, Tachai & Richelieu
40,900
44,900
48,900
09.05.2018
15.05.2018
6D/6N
Thailand - Similans, Bon, Tachai & Richelieu
40,900
44,900
48,900

Sample Itinerary for 6 day / 6 night Similan Islands liveaboard trip
Similans - Ko Bon - Ko Tachai - Surin Island - Richelieu Rock

Getting to Similans
Pick up at your hotel in Khao Lak is around 3pm.
Check in for the trip.
5.30pm Transfer by mini bus to the boat. Followed by check-in on board, boat safety briefing and dinner.
Departure to the Similan Islands.

Dive Day 1
4 dives at the Similan Islands - starting with a check dive on Island #4 and then further dives at Island #7. It is also possible on this day to visit the beach.

Dive Day 2
4 dives at the Similan Islands - visiting the best dive sites in the Similan Islands! Elephant Head Rock and dive sites around Island #8 are planned for this day. It is also possible that a trip to the beach on Island #8 may be made.

Dive Day 3
2 dives at the Similan islands, focusing on Island #9.
2 dives at Ko Bon, a site most famous for manta sightings.
Best chance of manta sightings is mid-December to April

Dive Day 4
4 dives at Ko Tachai and Surin Island. This place is known for turtles and leopard sharks. If you are lucky, mantas and whale sharks are sometimes encountered at Ko Tachai Pinnacle.
After the 3rd dive you have the opportunity to visit a Sea Gypsy village on the Surin Islands.

Dive Day 5
4 dives at Surin Island and Richelieu Rock. An early morning dive provides you with the virtually untouched natural surroundings of the Surin Islands. Good chance of bumphead parrot fish! Continuing on to Richelieu Rock; one of the most famous dive sites in Thailand. Here you can find almost anything at any time, from seahorses and ghost pipefish to schools of barracuda, tuna and even whale sharks (if you get lucky)!

Dive Day 6
2 dives at Ko Tachai and Ko Bon - the first dive is made at Ko Tachai before cruising to Ko Bon for the last dive of the trip. This could be the last chance to see manta! Fingers crossed! After dive 2, we have lunch while cruising back to the harbor of Tablamu.

The itinerary is not fixed and weather/technical-issues may mean changes to the itinerary at the last moment.