PADI Enriched Air Diver Course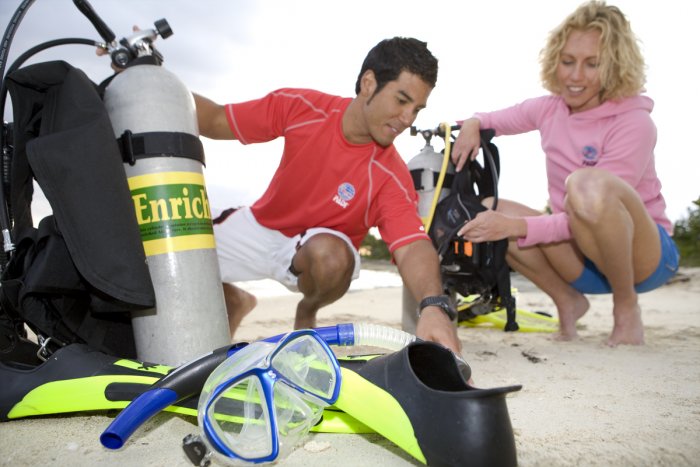 Enriched Air Nitrox Divers



This is our most popular Specialty course!
Scuba diving with enriched air nitrox gives you longer no decompression time so if have reasonable air consumption, it means you can stay diving for longer and get back in the water sooner. It is no wonder this is PADI's most popular specialty course. Plus at
SUB AQUA DiveCenter
, once you are Nitrox-certified, you can dive on
Nitrox for free
. There is no additional charge for breathing 'the sweet stuff'!
Nitrox
is not only for technical divers. More and more divers use Nitrox as standard when on diving holidays to increase their safety.
What you learn with the PADI Enriched Air (Nitrox) Course
- How to get a longer bottom time safely while using Nitrox
- Equipment considerations when using Nitrox for scuba diving
- How to safely manage oxygen exposure and how to set your dive computer correctly for Nitrox use
Your next adventure
Diving with enriched air nitrox benefits all kinds of diving but it goes together well with these other PADI Specialty courses:
-
PADI Wreck Diver Course
: popular wrecks often require you stay at depths where diving with enriched air nitrox would maximise the time spent exploring the wreck.
-
PADI Deep Diver Course
: typically the deeper you dive, the less time you get to spend underwater but enriched air nitrox can extend your no decompression limits to give you more time at depth.
-
PADI Digital Underwater Photography Course
: More dives means more photos and photographers like this! With enriched air nitrox, divers accumulate less residual nitrogen meaning underwater photographers can use nitrox for longer repetitive dives.
-
PADI Master Scuba Diver Course
: The PADI enriched air nitrox counts as one module towards the PADI Master Scuba Diver rating.