Getting Here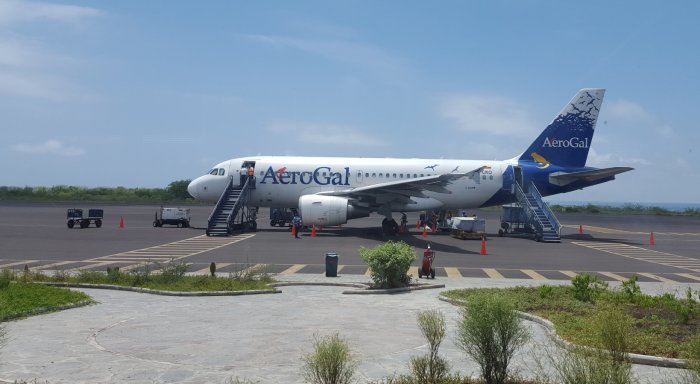 Domestic flight from Equador to Galapagos



To get to the Galapagos Islands for your diving holiday you will first take an international flight to Equador. Equador has 2 international airports;
Guayaquil and Quito
. Ultimately you are heading to Puerto Ayora, on Santa Cruz Island, the location of our SUB AQUA DiveCenter, Silberstein.
José Joaquín de Olmedo International Airport
in Guayaquil (Equador) is the recommended route simply because there are cheaper and often better-timed flights to Galapagos from Guayaquil. Quito is still an option if you want to explore some of Equador before taking your connection to Galapagos and most international flights make a stop in Quito anyway on the way to Guayaquil.
Direct flights are possible from Europe, USA and South America. KLM's flight from Netherlands is probably the most popular for European travellers but there are also flights directly from Spain.
Skyscanner
is a useful tool to find the best prices for online flights.
It is normal that you have to spend
one night in Guayaquil or Quito
before flying on to Galapagos. Allow yourself at least 2 hours before your flight to Galapagos because there is a pre-flight procedure at the airport that can require patience!
• Before check-in you must obtain a
Transit Control Card
. You will see a desk where you can do this. The cost is 20US$ for the card and you need this card for permission to enter Galapagos.
• You can then check-in as normal for your flight. Your bags will be weighed and scanned so beware of excess luggage. There are charges for excess luggage.
•
Bring cash
- you will need 100US$ the moment you land in Galapagos in payment of the national park fee. Credit cards are not accepted and there are no cash machines at the airport.
• Outside Baltra Island airport (the airport closest to our SUB AQUA DiveCenter Partner, Silberstein) you will find buses to the dock. It is just a 10 minute ride and then you can board the ferry to Santa Cruz Island - there are frequent trips across to Santa Cruz Island and journey time is 15 to 20 minutes.
• Typically once you arrive to Santa Cruz Island, your transfer will be waiting for you to take you to
SUB AQUA DiveCenter Partner, Silberstein
. Transfers are arranged through
Galextur
and will have been pre-arranged at booking of your accommodation on Santa Cruz Island.
Visa Information
Any person from any country can enter Equador and receive a tourist visa on arrival valid for 90 days. You need a passport (that has minimum 6 months more validity) and a return ticket.
We do however recommend that you check with your local Consulate for Equador to double-check.