Maldives Angaga - Kudhi Maa Wreck
2017-10-09 12:26:04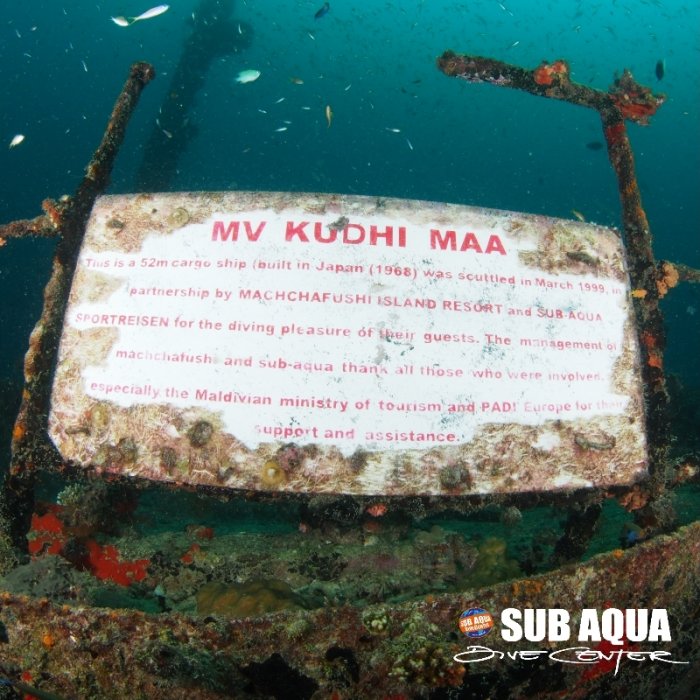 Wreck dive
: suitable for all divers
The wreck is situated at 25m, at the foot of the house reef on Machchafushi Island. It was purposefully sunk by SUB AQUA DiveCenter on 14th March 1999.
The 1200 ton cargo ship is 52m long and was built in Japan in 1968. Big entrances in the cargo areas were specially prepared before the ship's sinking for divers to safely explore. The cabin in the lower deck cannot be penetrated by divers because of the narrow passageways and difficulty to retreat back out of the corridors. Disturbed sediment would cause poor visibility if penetrated and this is another reason that divers are not allowed to enter this part of the ship.
The wreck itself is covered with a variety of different corals, sponges and shells making it the perfect artificial reef to reef-dwellers and colourful aquatic life. Plenty of friendly batfish are typically found inside the wreck and swimming around it. The niches and cracks around the wreck are some times found to provide dark shelters for stingrays and nurse sharks. Shallower on deck you can find lion fish and beautiful macro life such as nudibranches.
A torch light is recommended to get the most out of this fantastic Maldives wreck dive.