Scuba diving around Zakynthos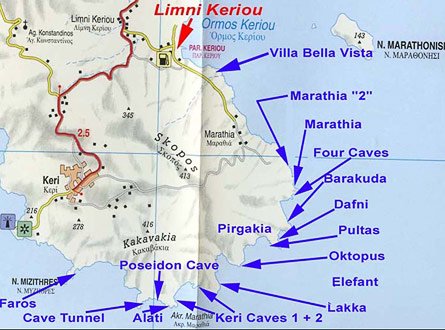 Dive Sites of Zakynthos



Up to 15 different dive spots are visited by boat, departing several times per day. The dive sites around Zakynthos are characterised by huge rocks, enormous cave systems and archways flooded with light.
You will find a huge variety of species underwater in the crystal clear water and between the rocks. During just one dive, morays, octopuses, lesser slipper lobster and other lobsters can be observed. More permanent residents of the dive sites include the wrasses, rainbow wrasses and damselfishes. Visibility on Zakynthos dive sites is astounding, often 50m+ of clear water making for fantastic underwater photos.
All dive sites are suitable for dives according to the appropriate training level and a full range of diving courses are taught at the dive center so if you want to try Cave diving or another new type of diving then Zakynthos is ideal for learning.
Full list of Zakynthos dive sites:
Alati
Barakuda
Faros
Four Caves
Keri Caves
Matathia
Cave Tunnel
Marathonisi
Dafni
Lakka
Poseidon Cave
Elefant
Oktopus