Maldives diving: orientation dive
2016-12-09 12:13:12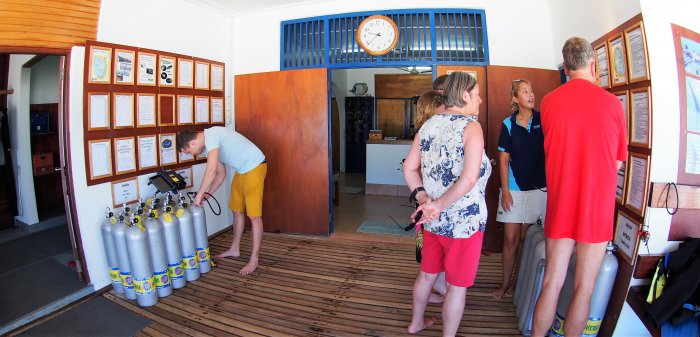 Maldives dive center
All divers coming to a
SUB AQUA DiveCenter in Maldives
will be asked to complete an '
Orientation
' dive with us, also known as a
check dive
. This allows us to show you around the dive center and explain in more detail what services we offer. We will show you where to sign up for diving activities and other practicalities that will help you enjoy your diving experience much more.
The orientation includes a guided dive on our house reef which allows you to get used to diving in the waters of Maldives. It is also an opportunity to test your diving equipment and sort out your weights for
good buoyancy while diving
.
If you wish to dive independently on the house reef, our instructors will accompany you on the
orientation dive
and brief you thoroughly on appropriate entry/exit points as well as other safety-related matters. Those of you that prefer boat diving will still be asked to complete the orientation dive on the house reef prior to any boat dives so you are comfortable with your equipment and the standard diving procedures before beginning the real thing.
Don't forget, the orientation is more than just a dive. It is an important part of learning how the dive center is working, where to find things, how to sign up for activities, and it saves a lot of time-consuming questions later in your holiday. The orientation dive is also a requirement of the
Maldivian government's Recreational Diving Regulations
that states,
an orientation dive is NOT a test, but is a dive in shallow water under quiet, controlled circumstances, where the diver is given the opportunity to regain confidence in his/her skills, including but not limited to: mask clearing, regulator recovery, neutral buoyancy, ascents, descents and alternate air source breathing.
At
SUB AQUA DiveCenter
, we don't just do the required skills; we also give you a nice guided house reef dive out of the orientation session. It is still a dive and we want you to enjoy it! Our instructors can show you some of their 'house reef secrets' along the way! This may be a frog fish, or a mantis shrimp, or other rare/difficult find.